9 reasons to put a tiny home on wheels instead of a slab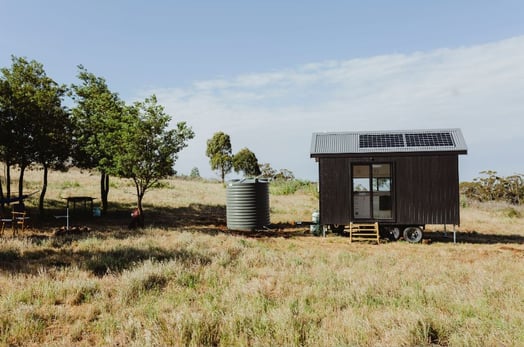 So, you're thinking of building or buying a tiny home, but you're still not sure whether to make it a permanent fixture on a slab or have it as a more portable option on a trailer with wheels.

It makes sense to consider the matter of land ownership first. If you own the land, you can do whatever you want with your tiny home, within reason. If you don't own some land and are looking to rent a spot to put your tiny home on, then you'd probably want to be able to move it at any time. If only it were all that clear cut.
Even if you own the property where your tiny house will be placed AND even if you're wanting to use it as a more permanent structure such as a home office, teenage retreat, art studio or rental space, there are still many benefits to keeping your tiny house on a trailer instead of a slab. Some may surprise you!

Here are just a handful of the many reasons tiny homeowners choose wheels over a slab.
1 - No council approvals
Building your tiny home on foundations requires submitting a development application through council which costs money, and approval can take three to four months. If you put your tiny home on a slab without council approval, you could end up having to pull it down and may incur a fine.
Instead, if your tiny house is on a trailer or wheels, it's no longer deemed a permanent structure, therefore building codes and permits don't apply. Tiny homes on trailers are technically considered to be 'caravans' in Australia. You could well and truly build and be living in your tiny house on wheels while the local council are still thinking about your application.

A word of caution: while popping your tiny home on wheels may help you fly under the radar, it doesn't necessarily make your tiny house lawful. It will depend on its intended use. It's still important to check the requirements with your local council as rules change all the time.

2 - It's cheaper… and safer
On top of council costs, permanent foundations can be expensive. You need to consider soil conditions, the amount of excavation, labour and materials required.
If you're not the owner of the land and are just renting, then it can become a costly proposition and will really tie you to the landlord.
No matter how great your relationship with the landowner, they can decide at any time to reclaim their space with little notice, leaving you without a home. If instead your home is on wheels, you can move at any time if things don't work out.
3 - No building license required
Whether you're building from scratch or buying your tiny home in kit form, remember if it's on wheels, it's not legally considered a structure so doesn't require a builder's license.

It's strongly recommended however that you ensure the person building your tiny home has a little more experience than piecing together a flat pack cupboard from Ikea!
4 - It's a more flexible temporary home
Some people build a tiny home on a slab to live in while their 'dream home' is being constructed. That's ok if you have a plan to incorporate the tiny home into your property as a permanent fixture such as a guest cabin or studio.
Consider whether you will want to keep your temporary home on wheels so you can either sell it when your home is completed, or move it somewhere else on your property if you so choose.

Even if you decide to eventually put your tiny house on a slab, having it on a trailer to start with allows you to move it around until you find the best permanent spot.

5 - Choose your aspect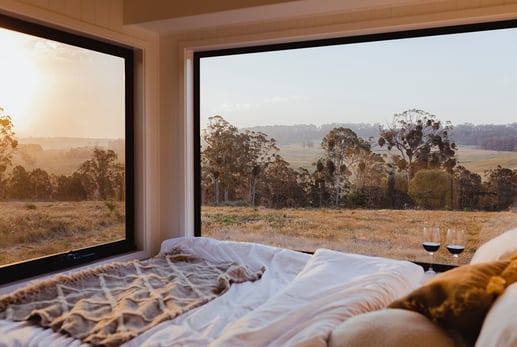 If you change your mind on the location of your tiny home and it's on wheels, you can simply move it to a different spot. This makes it ideal for taking advantage of environmental factors. You can move it under a big, leafy tree in summer to stay cool, shelter in a protected valley when the wind picks up, then pop it out in the sunshine to keep you warm during the cooler months.
You might also enjoy a change of scenery, literally! If your tiny home is on wheels, you can move it on a whim. Hmmm… let's overlook the lake this month, swing around to face the mountains next month and how about nestling into the rainforest after that?
6 - Move whenever you want
If you own the land and don't like the position you've chosen for your tiny home, if it's on wheels you can easily move it! If you don't own the land and don't like your landlord (or vice versa) you can move away altogether!

Making your tiny home portable gives you the flexibility to pull up stumps (without the stumps) and find somewhere more suitable.
7 - Move in a hurry!
In Australia we face extreme weather conditions such as hail and dust storms and natural disasters like devastating fires and cyclones that can whip up in no time.

Having your home on a trailer means you can hook it up at short notice and move if you need to. If your tiny home is your second home, you'll have peace of mind knowing you have somewhere to shelter until it's safe to return. If your tiny home is your only home, it's even more important to be able to protect it.
8 - Take off and travel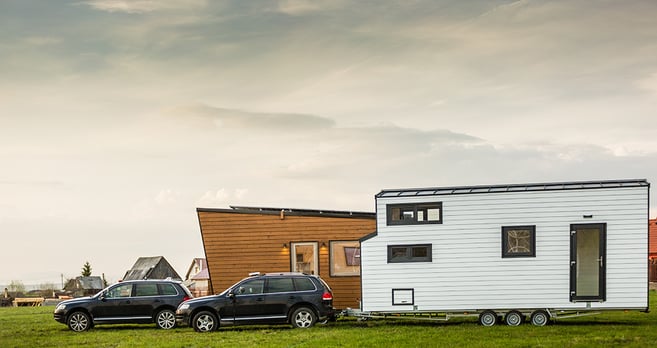 Your tiny home on wheels gives you the ability to travel, taking your creature comforts with you. You're not tied to one location, but have the freedom to head off on an adventure whenever you want.

The popularity of the tiny homes movement in Australia also opens up some wonderful opportunities to explore many amazing parts of our country and meet other tiny homeowners along the way.
9 - Easily sell your tiny home
If your tiny house is on wheels, it becomes easier to sell if you no longer need it. It's a bit tricky to sell once it's stuck on a slab!

Let us help you decide
Whether you're unsure about a slab or wondering about wheels, we're here to help take the guesswork out of it all and make your decision easier. We can help you find the best solution for your situation and get you into the perfect tiny home, so please feel free to get in touch. We offer build-it-yourself kit homes as well as completed tiny houses that are delivered to your block, ready to move in. So go tiny with the Alphaline team today!