Budget Tips for Buying a Tiny Home
Understanding the costs – where to spend and where to save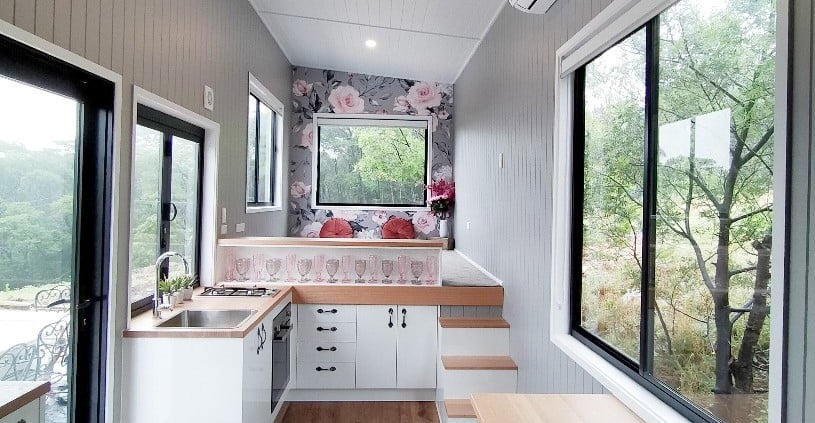 The prices of tiny homes are quite varied out there on the market. There's no shortage of different builders offering varied levels of quality and inclusions.
In this blog, we aren't going to look at any specific price ranges that you should expect to pay for the purchase of a tiny home. This is because prices differ based on factors such as the size of the home, if the home needs to be built to meet a cyclone rating as well as where the home will be delivered to. How you intend to use your tiny home also influence your budget. For example, if you want your tiny home to be used like a granny flat for a relative to live in full-time, you'll probably want to opt for off-grid capabilities so it doesn't need to placed right next to your main house in order to connect to power and water.
Rather, we're going to explore some key points to keep in mind when you're deciding how to allocate your budget for the different components of a tiny home build. There are inevitably going to be items that you'll want to spend more money on in comparison to someone else who has different design preferences and lifestyle factors.
Without further ado, let's get stuck into it.
Firstly - does it cost more for a custom designed tiny home?
Many tiny home builders have somewhat limited 'fixed' designs and fitouts and offer these houses at a packaged price. Oftentimes, customisation of these designs is not allowed or is charged significantly extra for. As a result, many people assume that customisation and a higher purchase price go hand in hand.
But in reality, customisation doesn't have to equal more cost. In fact, customisation may actually save you money in the long run if done correctly. Here's how:
In many cases, a fixed price package may include things that you personally don't want or need in your tiny home. For example, a fixed design could include some really great features such as a spacious deck. However, you might rather utilise that floorspace for the interior so you have more room for storage or a larger kitchen.
So our tip to all potential tiny home buyers is this - make sure you get the things you want and the things you absolutely need. There's no point in paying for features that you aren't going to use.
Therefore, if you can find and work with a builder on a custom design from scratch, there's a good chance that the final price of your tiny home won't be significantly more than a packaged price tiny home but it will have the added benefit of the design being built to your exact specifications.
Key features which will affect the cost of a tiny home:
Type of windows
It might not seem like it at first thought, but windows are incredibly important to the overall liveability of a tiny home. Ideally, you want windows that allow in as much natural light as possible, provide adequate ventilation and also capitalise on surrounding views.
A lot of people want bi-fold windows for their tiny home, especially if the windows open up to a deck. However, adding screens to bi-folds is much more expensive compared to traditional sliding or swing open windows.
In our experience, we recommend aluminium windows which swing outwards as the most economical choice in the long run. Whilst more expensive than timber windows, you don't have to worry about the aluminium deteriorating over time, especially because tiny homes have quite small eaves and provide limited protection from the weather.
Cabinetry
Storage in a tiny home is super important and the amount of cabinetry in your tiny home will definitely affect the price. Drawers are more convenient than cupboards in the kitchen, but will cost you more. However, the convenience and general liveability of drawers can mean that this is money well spent at the time of building.
Also, the type of bench top finish you choose will make a difference. Stone benchtops can look great, but they do add a lot of weight and will impact on cost.
If you're working within a strict budget, a compromise may be to install drawers in the kitchen, but choose a lower cost bench top finish such as laminate instead of stone.
PRO TIP: You can plan to add more cabinetry later, rather than during the original build. The trick is to plan ahead and leave space. The same can apply for wardrobes.
Off-Grid Components
Tiny homes can absolutely be designed to function completely off-grid, which is one of the main reasons they are so attractive to so many people. Be aware though that the majority of tiny homes don't include off-grid functionality as standard and you'll probably have to pay for some upgrades if this is something you want.
The costs of adding a water tank, solar panels, battery pack and inverter to your tiny home may seem high at first, but you'll need to consider the significant cost-savings you'll achieve on both water and electricity over time.
One way you can make these costs more manageable is to stagger the installation of the necessary off-grid components in stages. For example - you could park your tiny home near an existing source of water and electricity at first, then later on install a solar panel system and water tank when your budget allows. Then you can relocate your tiny home to wherever you want to.
Floor Insulation
Much like paying extra for off-grid components, floor insulation falls into the category of "spend a bit more now to enjoy greater benefits in the future."
Because tiny homes are so small, the inclusion of as much insulation as possible makes a huge difference to your energy consumption levels. Consider this - during cold weather, a lot of the cold will come up through the floor. This can make for chilly conditions as tiny homes are low to the ground. Having floor insulation will keep you much warmer and therefore lower your energy use as you won't have to use the air con on heat mode as much.
Floor insulation is particularly important if you live in an area where there can be lengthy periods of cold and rain. Cloudy conditions will reduce the ability of any solar panels to keep a battery system charged, so energy will be at a premium.
Finishes and Fixtures
The type and quality of finishes and fixtures will definitely influence the final cost of any tiny home. This includes items such as floor coverings, tapware and external cladding.
You need to think about each item carefully and balance the cost of each against practicality.
For example, in days gone by, people used to think that vinyl flooring was a poor quality option. However, vinyl has come a long way and there are many brands of laminate of superb quality. In particular, vinyl timber flooring can look like the real thing but at a much lower cost and at a much lighter weight.
Another example to consider is cladding. This is one area that you might want to think about paying a little more for. Some extra funds invested in newer 'architectural style' cladding can add tremendous style and value to your tiny home. That can be good bang for your buck, especially if you plan on using a tiny home for commercial purposes such as accommodation rental.
Your tiny home builder can work with you in helping you decide what's best for your lifestyle and your back pocket. Just like with a normal size home, you can upgrade things later on when your budget allows or if you just want to update certain fixtures when design trends inevitably change.
Optional Extras
Most tiny home builders offer a plethora of options to make your tiny home more comfortable or stylish.
You might have some wiggle room in your budget for optional extras, but just make sure that you weigh up the pros and cons before deciding on any extra spend items.
For example, skylights are a common and popular upgrade option. They can be great in tiny homes which have a loft sleeping area. But on the downside, skylights can let in a lot of heat. This may not particularly bother you if you live in a mild climate, but if you're in a warmer area, you could end up regretting that purchase when summer rolls around. Another thing to consider with sky lights is that they take away available roof space which can be used for solar panels.

Ready to talk tiny?
Everyone has a different vision for their tiny home. Just when we think we've heard them all, along comes a new one and we're all ears! We love to talk tiny, discover your ideas and share some of ours.
We offer completed tiny houses that are delivered to your block, ready to move in or start renting out to your holiday guests.
Contact us today. We would love to help you go tiny