Tiny Home Customer Story: Leanne Hall (Cedar Brush Creek, NSW)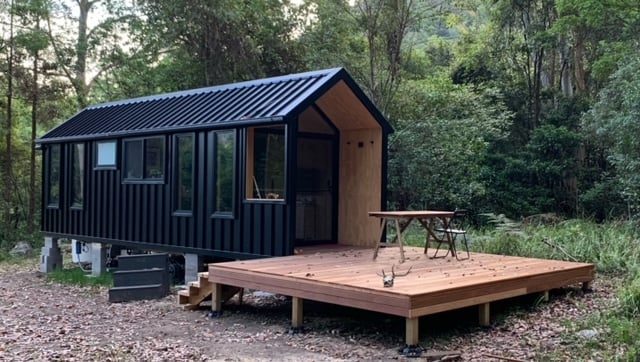 "The main reason we chose a tiny home was we couldn't build another house on our property due to fire restrictions… and because of the wombats!
I'm a wombat carer and the coordinator for wombats for the Central Coast. My husband Steven and I have retired, and we regularly rent out our house. We needed somewhere we could live on the property while looking after injured and recovering wombats.
From the start of our research, Steven liked the look of Alphaline. We only wanted a single-story tiny house, but with enough space for the two of us and a little cot for the wombats. Alphaline's designs were great, but we changed a few things. Where we live it's either stinking hot or freezing cold, so we had insulation installed in the floor, ceilings and walls. We also included double-glazing on the windows. It's made it more comfortable for the wombats… oh and for us too!
From when we first decided on Alphaline, the process was really, really good. The whole thing was done remotely so we didn't have to go to Queensland. Everything was by email and when we'd send an email, we'd get an answer straight back. We received photo updates along the way and had Zoom meetings when they got to the finishing stage to make sure everything was how we wanted it. The service was fantastic.
Once our customised tiny home was ready, the team brought it down to display in a show, and then delivered it to us the next day, well within the timeframe they promised. It had been raining the day of delivery so the conditions were awful, but they did their best and we were grateful.
If anyone asks about buying a tiny home through Alphaline, I say go for it, don't use anyone else! Every person we dealt with was approachable and listened to what we had to say so communication was easy. There were two small glitches on the home and they're being fixed. The customer service is really fantastic.
Now we're living in our tiny home, it's wonderful. We've had a deck put on and almost finished furnishing it.
I love it, and so do the wombats!"