How to run an up-market tiny home farmstay or Airbnb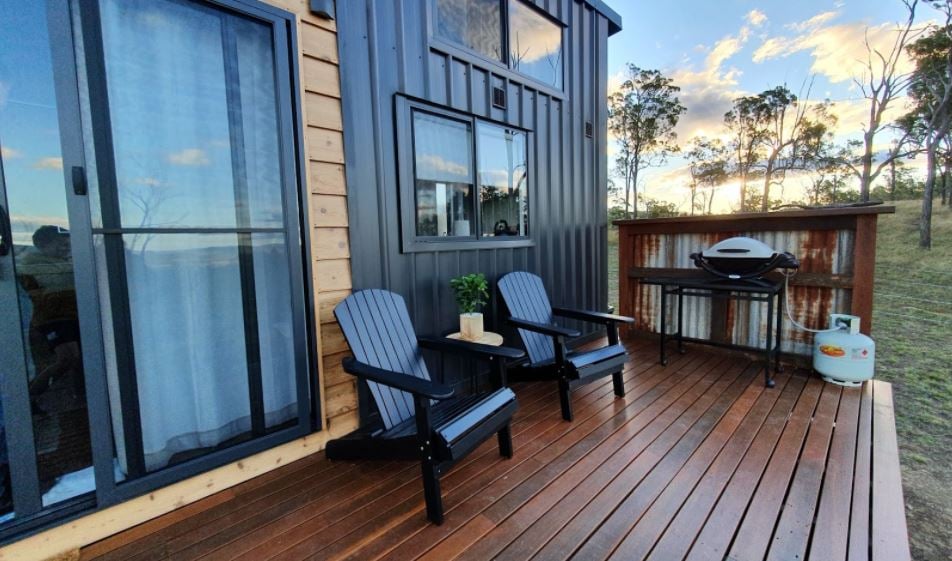 Tiny homes make for the perfect Airbnb, farmstay, couples retreat or family holiday house. They offer holiday makers the unique opportunity to experience what tiny house living is all about.
So it's no wonder investors are snapping them up and turning a section of their land into an additional stream of income.
After all, once they're up and running, a tiny holiday home takes very little time and effort to maintain and can turn a decent profit. Run well, your tiny home could even pay for itself within the first year!

Here are some of the considerations you should keep in mind when looking to buy or build a tiny home and turn it into a profitable holiday rental.

How big should your tiny home be?
A tiny home is tiny, right? Yes, but tiny can come in many different sizes. To give you an idea, the smallest home we manufacture is around 3.6m in length whilst the largest is 8.4m. When using a tiny home as a holiday home, your first consideration should be 'who' you would ideally like to rent it out to.
Are you wanting to accommodate families, couples, or singles? Or a mix of everyone? Each has their own specific needs and space requirements. Obviously singles and couples can enjoy a smaller space, so if you'd like to mainly cater to that market, your tiny home design can be very compact.

If it's family holiday makers you want to attract, then you'll need a larger tiny house with perhaps a secondary sleeping area, such as pull-out or pull-down beds and enough living and dining space to comfortably cater for more people.
A tiny house can be configured in many ways, they are really only limited by your imagination.
Will your tiny home be powered or off-grid?
Do you plan to have your tiny home sitting near your main house, running off your existing power and water supply? While this sounds like a simple solution, it's often not the best one. Imagine running power cords and water hoses to your quaint little holiday home. This not only detracts from the look of your tiny home set up but it can also become a tripping hazard.
You could connect independent utilities to your tiny home, but this can be quite costly.

Ideally, you will want to be able to run your tiny house completely off-grid. Solar panels can be installed on the roof or separately on a trailer for more flexibility. A rainwater tank can also be a more permanent feature or something portable. But wait, why would you want your solar and water to be portable? This next point is one of the best reasons for having a tiny home as a holiday rental, Airbnb or farmstay.
You can move your tiny home anywhere on your block
As your tiny home is on wheels, you can move it wherever you want! This means you can position your tiny home to take advantage of the seasons as well as different outlooks on your property. Summer under the big tree, winter in the sun by the creek, or change the position so it's overlooking a valley or close to the mountains. You choose depending on the season or the reason. Your guests will keep returning to their favourite tiny home for holidays just to take in a different view!

Another more serious benefit to having your investment on wheels is in case of a natural disaster where you need to make a quick exit. You can just hook it up and tow it to safer ground.

What about facilities in your tiny home?
Whether you choose a tiny home from a kit to build yourself or have it custom designed and built, there are a lot of decisions to make internally to create a beautiful, functional, and welcoming holiday home.
Bedroom spaces can vary. Lofts are a great tiny home addition. Kids love sleeping up near the roof, while for couples, a loft can create a little 'romantic' hideaway. Make sure if you include a loft, that it's easy and safe to access, and is not cramped once you're up there. There's a fine line between cosy and claustrophobic!
The kitchen, though tiny, still needs to cater to the people you are wanting to attract. If it's singles and couples, you can get by with a bar fridge, a small sink and limited bench space and shelving. A small family will need more.
Dining areas also need to be well thought out. Ideally your tiny home setup will include ample room both inside and out for holiday makers to enjoy a meal. Temporary decks and awnings can create a great space for sitting under the stars and a fire pit (restrictions permitting) can add a magical camping feel to your tiny home holiday experience.
In the bathroom, no matter how many people are staying, you need a high level of comfort and privacy. Consider this when designing both the shower and toilet areas. Some investors spend a little extra and install an outdoor bath on a deck for super-romantic getaways.
As for the toilet, fortunately, composting technology has come a long way since the thunderbox or 'drop toilets' with no odour or hygiene issues in today's compact, modern loos.
Your way-more-than-tiny return on investment
Tiny homes are big business in the holiday rental world. Do a quick online search and you'll see some amazing tiny holiday homes on offer, many generating a far higher return on investment than a traditional holiday house.
The attraction lies in the 'tiny home adventure.' There's a sense of romance and adventure in taking a break from the big smoke to a tiny home holiday getaway. It is an experience people are willing to pay a premium for.
Another interesting holiday segment comes from the boom in the tiny home market. Many people want to get a taste for 'tiny living' before deciding to make a more long-term lifestyle change. Renting a tiny home for a holiday is a safe way to try before they buy.

The cost of building your tiny home as an investment is also less than a traditional build on any site, especially on a remote site where building costs are much higher. Whether buying a tiny home kit and erecting it yourself or having it custom designed and built for you, you're saving time and money, allowing you to welcome your guests sooner. Once set up, your running costs are extremely low, especially if your tiny home is off-grid.
Talk to people with experience
At Alphaline Tiny Homes our team has experience helping investors get set up in their tiny home quickly and easily. We can offer advice on all aspects, from design through to cost-saving appliances and can recommend the most efficient off-grid systems.
Our selection of tiny home designs can provide some great ideas to get you started. You can build your tiny home yourself or we can deliver your completed tiny house to your block, ready to decorate, landscape and welcome your first holiday guests.

If you live in or near Brisbane, make time to call into our showroom where we can project your tiny home floor plans in a life-sized 1:1 scale so you can walk through and see your changes in real time!