The pros and cons of building a tiny home from a "DIY" kit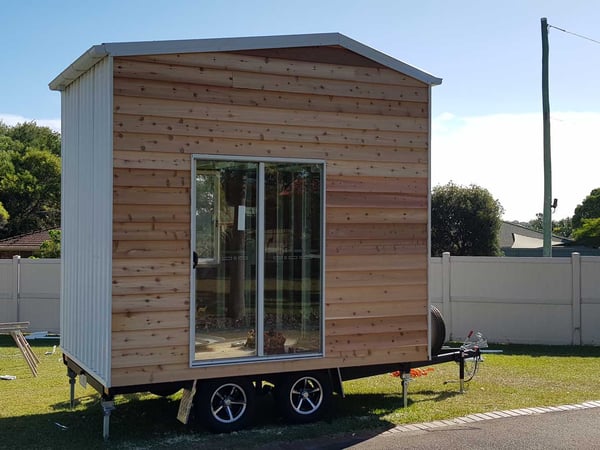 Tiny homes come in every shape, size and style imaginable, from little more than a room on wheels to elaborate mini mansions with incredible design features.
Many brave tiny home enthusiasts take on the challenge of designing and building their own little dwelling. However, many will purchase a turnkey tiny home which is completely constructed and decked out with appliances.
There is also another option that's ideal for those who like to be hands on, but don't want to do all the hard work of building and designing from scratch – and that option is a "DIY" tiny home kit.
There are benefits no matter which way you go. Only you will know what's best for your situation… and skill level. Let's look at the pros and cons of buying a tiny home kit and putting it together yourself then compare that to having it designed, built and delivered ready for you to move in.
The pros of buying a tiny home kit and building it yourself

Buying your tiny home in kit form is a great way to be fully involved in the build, while substantially cutting down on costs. A kit will suit if you like to be more hands on, more creative and have that sense of accomplishment in building your own tiny home.
One of the main benefits of a DIY tiny house is you don't need a builder's licence. Under law, a tiny home is technically a caravan (provided that it's on wheels and not on a slab).
This means you can bypass the council approval process which can be costly and take months. That all changes of course if you decide to build your tiny house on a slab. Whichever you choose, check with your local council as the rules often vary region to region.
Some tiny home kits are delivered as a flat pack which you can build yourself or get a builder to help you with. They can also be delivered with no internal lining. You start with just the 'shell' of your tiny house then finish it however you like with timber panels, plywood or beautiful finishes such as cedar. If you're not going to move your tiny house, having it more as a permanent fixture on your property, such as a guest cabin or home office, you can go with plasterboard.
From there you can fit out your tiny home with all your cabinetry which can save you 50% off the price of purchasing a turnkey home. A kit home gives you the freedom to put your own personal touches on it and fit it out the way you want.
If you buy a tiny home kit from a professional builder, construction should be to a high standard, with panels constructed on a jig. You shouldn't even need a level! You will need a few tools though and most tiny home kit manufacturers will include that for you… along with easy-to-understand instructions!
The length of time it takes to build your tiny home depends on the purpose and how much fit out is required. Your tiny house may be an office or workspace and just need a desk, a small kitchen and a toilet. That won't take long. If it's going to be your home, then it will take a bit longer.
So, what are some of the cons of buying a tiny home in kit form?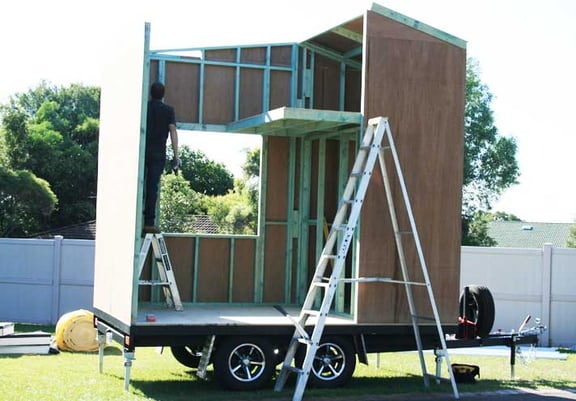 If you're a builder yourself, or have a fair knowledge of what's involved, then a kit could be a great option. If not, then you could be biting off more than you can chew. Even if the kit has a beautiful design, is manufactured well and delivered to you as a shell, it doesn't take much to muck it up if you don't know what you're doing.
If carpentry, cabinetry, plumbing and interior design are not your strong points, then you may want to rethink building your tiny home from a kit. It doesn't mean it's a bad idea, just that you may need to lean on friends or family who are better skilled in those areas to help you. Otherwise you may end up paying for labour which defeats the purpose of buying a kit to save money in the first place.
If you opt to get a hand in the construction of your tiny home, make sure you're using qualified tradesmen. If you're going to pay, make sure all work is carried out by professionals. You'll have peace of mind that they know what they're doing and will do it right.
Construction takes time. If your tiny home arrives fully fitted out on the back of a truck, you can pretty much move in the same day. If it's a DIY project as a home to live in, you may need to take time off work and fill every weekend with getting it done.
Another consideration is where you'll be living until you've finished. The cost of rent can eat into your savings compared to being able to move in straight away if someone else does the building and fit out for you.
Weather can also play a factor in your build time. Tiny home builders do their construction indoors, so they can work in any conditions and have your home completed much quicker. If you don't have this luxury, you'll be restricted to working daylight hours and be at the mercy of the weather.
Whether you decide between a kit or a ready-made tiny home, we can help!
Let us take the stress out of building your tiny home by having our professional builders and craftsmen help you as much or as little as you like.
Want a little? If you decide you want to play a major part, choose the DIY option and we'll deliver your tiny home in a flat pack or as a shell for lining. We are there to offer support along the way. We won't just give you a hammer and a set of instructions and wish you luck!
Want more? We will deliver your tiny house fully lined and you can fit it out how you please. You can take advantage of our buying power and get your fixtures and appliances at heavily reduced prices, something you wouldn't be able to do on your own.
Want it all? Our team will put in all the hard yakka and build your beautiful tiny home to completion. The toughest thing you'll have to do is decide on the style and colours, and we even have our interior designer who can help with that! You won't need time off work and your weekends are all yours.
Alphaline Tiny Homes can also offer low interest finance options to get you out of renting and into your tiny house sooner. Contact us today and let's get you the tiny home of your dreams.