Here's why tiny homes are so popular with Aussie tourists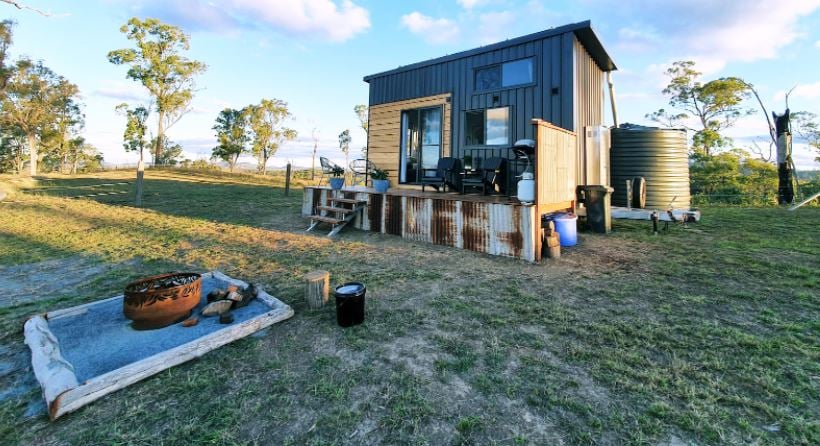 Tiny home holidays have become an attractive option for tourists, travelers, holiday makers and weekend escapees wanting to avoid cities and other busy tourism destinations. And tiny homeowners are welcoming a constant stream of singles, couples and small families looking for a more relaxing, meaningful and minimalistic getaway.
So what is the lure of the tiny home and why are tiny home investors finding themselves booked out solidly due to this sudden surge in popularity? Whether it's through Airbnb, run as a farm stay or a glamping holiday, many hosts are finding they can't keep up with the soaring demand to rent their compact little holiday homes.
If you're interested in purchasing one or more tiny homes to rent out as accommodation, this post explores what makes a tiny home holiday so special and a great investment.
A tiny home holiday offers simplicity
In a world that's fast paced, where every moment is filled with the demands of work, family, and an ever-growing need for more, tiny homes offer a retreat into a life that is simpler. Clever hosts create an atmosphere of 'just enough' and not 'too much,' where your needs are catered for, but not over-indulged.
A tiny home holiday is as much about what you are leaving behind as what you are stepping into. Even if just for a weekend, city dwellers can close the door on clutter, technology, business and responsibilities and step into a more Zen like environment to relax and recharge.
A chance to get back to nature
Most tiny holiday homes are positioned in idyllic surroundings, whether it's on a farm, near the ocean or out away from everything in the bush. That doesn't mean as a tiny home investor you need a large block of land, just the right type of block. Privacy, serenity, and a fun unique experience is what most people look for when booking a tiny home getaway. They want to enjoy a bit of clean, fresh air and wholesome, modest living.

Learning to live with less
Tiny homes are a popular choice for eco-tourism destinations, and it's easy to see why. A tiny home that runs mostly (or completely) off the grid, leaves a very small carbon footprint. This appeals to people who want to enjoy their holiday without it 'costing the earth!'

Likewise for tiny home investors, the smart design features incorporated into a tiny house mean it's cheaper to build, requires less maintenance and energy costs are greatly reduced. That's a plus for investors, holidaymakers and the environment!
A different outlook on life

One of the wonderful features of having a tiny home on wheels is it can be positioned anywhere on your property and moved depending on the season or the weather. Some hosts with large blocks choose to change it up regularly by re-positioning their tiny homes throughout the year, offering guests a unique experience each time. Holiday makers love returning to the same tiny house with a different view.

Time for a change
Some tourists are just wanting to try the next new thing! They've done the fancy resorts, been on umpteen cruises and lavished in big holiday homes. There's a good chance that they've heard about the concept of tiny homes and think it's a cute idea, so why not? Many will come just to tick 'tiny house' off their bucket list of must-do-holidays.

What's surprising with these holiday makers is they don't expect it to be such a beautiful experience. A little bit of tiny magic happens when they discover how little it takes to have a wonderful time. Plus, with international and interstate travel affected by the ongoing COVID-19 pandemic, people are looking for new ways to holiday

Trying a tiny house on for size

Here's another interesting holiday market - people who have heard about tiny homes and are interested in buying one to live in, but want to see how it feels first. They want to learn how to live lean but are unsure whether they will be comfortable in such a small space. After all, going tiny is a big commitment. Wisely, they would rather spend a little money on a tiny home holiday to see if it's a good fit (literally) before completely changing their lifestyle. It's the best way to 'try before they buy!'

Good old-fashioned hospitality
Not all tiny holiday homes are found in secluded areas. Some farm owners have grabbed the opportunity for additional income by starting tiny house farm stays. They cleverly balance a wholesome, hands-on farm experience with the simple pleasures of watching a sunset, interacting with animals, sitting around the fire, baking damper together before guests retreat to the comfort of their tiny home.

So, how do you set up a tiny home for holiday accommodation?
Tiny homes come in all shapes and sizes (the longest measuring around 8m) and are suited to just about every location you can imagine.
The team at Alphaline Tiny Homes will find the right tiny home to suit your needs, your property as well as your investment goals.
Have a look through our stunning tiny home designs. You can choose to build your tiny home yourself or our professional team can deliver a completed tiny house to your block, ready for you to add your personal touches and welcome your first guests.

Contact us and make time to have a chat about the best plan to get your tiny home investment up and running and producing an income for you. If you're close to Brisbane, visit our showroom where we can project your floor plans in a life-sized 1:1 scale so you can walk through your tiny home before it's even built!